The Hero Frenzy
A Belated Diwali Wishes for all of you over here..!
Hope you all had a safe and joyous Deepavali.
All folks from Tamil Nadu clearly know whats the big deal fo rthis Diwali, it was the release of 2 mega budget movies namely Ezham Arivu and Velayutham and of course the much hyped Ra One nationally.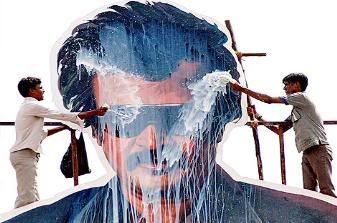 I read in The Hindu dated 28 Oct 2011 that a man was killed in a theater premises near Idayarpalayam, Coimbatore on Diwali day. Probably he was killed over a fight near the ticket counter because of reason nobody knows.
The lead roles in both the movies are performed by 2 actors with immense fan base Surya and Vijay. The latter has a totally humongous fan base. Each fan idolizes their respective hero, sorry Idol. Because of this idolization, they tend to over power anyone who speaks bad not specifically about the actor but even a bad review about the movie.
This frenzy about considering actors to be Gods prevails only in Indian states, am not sure about the North Indian states. But in Tamil Film Industry , this idolization is a way too far.
During the first day show of the movie, fans get to do a lot stupid things for their Gods.
Its a Hindu tradition to shower a God, I mean the real God, in temples with Milk, Flowers, Honey etc etc, you can find a plastic flex banner of the actor being showered in litres and liters of milk poured down by the devotees upon their Gods (actors).
They also feed the BANNERS with sweets and other stuff. Can you people believe this? This is the stupidity thats been done in Tamil Nadu lately. Are the actors sleeping? Wont they read this in news papers?
Its astonishing to see how crazy people can get at times. Why should one consider an actor who is nothing more than a common man but another human being doing his job.
Its just like my dad goes to office, he goes to the studio.
Just like my dad contributes to the economy of this country, this actor also does the same but in quite a larger scale.

All the request I put forward to those who adore their actors to a level when they start considering them as Gods, PLEASE DO NOT WASTE WHAT OTHERS DONT GET ON THE STUPID POSTERS AND BANNERS.

This must be declared a crime and punished severely.

Acts of Stupidity on the High.
The actors themselves must get down hard on their fans and order them not to indulge in any more further stupidities..!!

Jai Hind